Defender's "Moon Madness" - FREE FULL VERSION!!!
ALL Chapters 1-26, Copyrightę 2001-2006 By:
Larry K. Hockman, "All RIGHTS RESERVED"
Take A Break!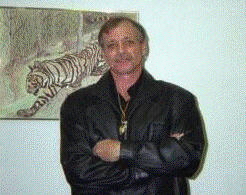 Hell-O! My name is Larry K. Hockman - AKA: Defender(TM), author and publisher of "Moon Madness" - THE Premier *Cat-Lovers* ACTION novel, available *NOWHERE* but here and combining all of the categories of Animal, Adventure, Romance, Murder, & Mystery into a *SINGLE* literary work!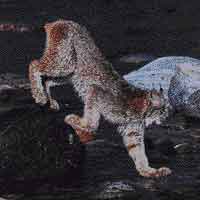 I wrote "Moon Madness" for the cat-lovers of the world, . . not only as a tribute to one my own fallen dear companions, but also to highlight the almost human characteristics our feline friends exhibit and problems which can arise during their co-existence with mankind. It also serves to bring to light the plight of the great cats in their steady decline in numbers from mankind's ever encroaching "progress" by the destruction of their natural habitat, merely his selfish need for "more" room, or worse yet, . . illegal *poaching* for their fur or use in "medicine" and "religious" ceremonies. Author's Note: Though "Moon Madness" is based in *fact* and starts out near my hometown (Tyler, Texas), it is nonetheless *Mainstream Fiction* and characters are not meant to represent *ANYONE* either alive or dead!



Quick Synopsis:

"Moon" was discovered shortly after he had been dumped in the roadside weeds alongside his gunshot mother. Helpless and innocent, he was cruelly left to starve as the fight for life within his mother's body slowly ebbed in fits of agony. Rescued and raised by Vince, a local state park warden, Moon grew quickly into a rather large hybrid cat of questionable origin, . . . The gentle feline traits he inherited from his domestic Manx mother are constantly displayed as he continues to grow, both mentally and physically, and adapts to form a loving, inseparable bond with his human saviour. Soon, his phenomenal feline instincts and abilities become almost legendary within the realm of service and friendship during his coexistence with human counterparts.

But Moon has a dark side, . . . comprised of negative human emotions, . . . revenge, hate, and disdain. Spiced with the innate cunning and stalking abilities within the genes of his wild heritage, he is fully capable of becoming a formidable killing machine on a second's notice! He carefully suppresses this side of his nature, except when hunting in the woods with Vince. His secret and genetic origins are eventually discovered by Anna, a beautiful wildlife biologist whose empathic abilities with all cats are also carefully guarded for her own safety. She, Moon and Vince form a permanent bond after Anna rescues Vince from a certain frozen death induced by an untimely altercation with a huge wild boar.

Moon's dark side only begins to surface when his "adopted" family is eminently threatened by an unknown and unseen foe, and apparently without motive by human standards. Only Moon instictively knows all of the facts dating back even before his birth. The mystery deepens till finally, the wild side of Moon lashes out and he kills a student in a bloody, violent rage! Moon suddenly finds himself on the wrong side of mankind's law with half of the country hunting him for murder. Only Anna and her protege', Stacey, know of Moon's innocence, but have no way of proving such without revealing their empathic abilities. They must trust and protect Moon until he can lead them to the hard evidence which will vindicate his actions. Conflict and danger for all involved in his unerring quest abound with every twist and turn. Moon is unjustly forced to live within his dark side personality to ensure his own survival, . . . Emotions, trust, frienships, love and the law are all stretched to unimagined limits between Moon's human friends and those who would hunt him to his death before he can clear himself. Truth, Justice, and the American way are tempered with the wisdom of discretion in the end, . . .




Welcome to DEFENDER'S *FREE* FULL Preview of *MOON MADNESS* during its authentic *First-Run* Release to the *WORLD*! Author's Note: These pages are DESIGNED for *OPTIMUM* VIEWING with INTERNET EXPLORER 5.0, 5.5, or 6.0 (Current)! In addition, please allow time for the pages to load fully as an *Entire Chapter* is contained in each and is *Optimized For Reading*. ThanX!



Discover the Secret tool that's generating over 41,500 Hits to any webpage! (Click HERE!)




I have published "Moon Madness" in the form of webpages for several reasons. (Author's Note: The *Complete* Version of "Moon Madness" is right here and all chapters can be accessed by the buttons on the left! [author's note,.........in some of the latter chapters, my *old* Earthlink email address may still be in the last chaps--------I have updated most of the pages, but it *does* take time, so please bear with me for a bit longer. After all,... I just GAVE you 5 [Copyright,April 21, 2001-2006]5 SOLID YEARS OF WORK!!!!,so please cut me a bit of slack,......ThankX---LKH *Any* author who has ever tried *unsuccessfully* to break into the lucrative world of normal *offline* publishing can tell you it is a *waiting* game at best. The internet has now made it possible for most anyone with a little technical skill, the opportunity to *publish* their *own* works without having to wait *months* to see if their manuscript was even read! You *can* do it yourself as I *have* on the *internet* and retain *all* of your rights! There are plenty of *FREE* resources on the 'net if you will merely take the time to seek them out and put them to use---------! Hopefully, *THIS* publication will prove to *ALL* authors (or just wannabes) that it is not only *POSSIBLE* to publish your own works, but it is much more *PROFITABLE* to do so yourself!



Affiliates of the World!
Top rated affiliate programs, excellent business opportunities, great marketing resources and free advertising for you... all on one site!





LinkLeads.com - Advertise on other websites by exchanging links with similar sites. Join our FREE worldwide search engine and boost your visitor traffic today by receiving Link Leads.






Defender (tm) would like to thank Clarissa "kiki" Frampton for offering resources through her website at Start-Smartz« (click here), plus timely tips, publishing advice, free E-book building software and advertising mediums.




This space RESERVED For LATER USE--LKH

Author's Note: Feel free to copy/paste the text contained herein to build your personal copy of "Moon Madness". However, as this is COPYRIGHTED MATERIAL by ME, the ORIGINAL AUTHOR, please DO NOT copy for UNAUTHORIZED DISTRIBUTION in any form or fashion. "ALL RIGHTS RETAINED & RESERVED" by Larry K. Hockman! Please don't hesitate to E-Mail me for permission to use my works in the classroom, etc. ThanX for Visitin'! I hope you enjoyed the story and pass it on to your friends. LKH


Defender (TM) [[$$$$]];;;;;;;;;;;;;;;;;;;;;;;;>(TM) Take Care! :-)